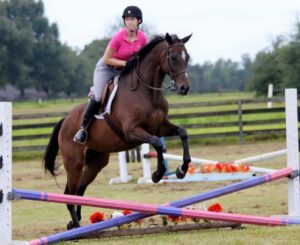 The Run for the Ribbons Horse Show Series is a two ring Hunter/Jumper horse show series, with Ring 1 being exclusively for all tattooed, registered, and identifiable Thoroughbreds. We have established this exciting new horse show series to create a meaningful competitive environment, raise the demand for Thoroughbreds, and to help owners in expanding second career options for OTTB's (Off-Track Thoroughbreds)
OUT OF APPRECIATION FOR THE TRAINERS AND RIDERS WHO HAVE SUPPORTED AND PARTICIPATED IN OUR FIRST SUCCESSFUL SHOW YEAR, WE HAVE UNANIMOUSLY DECIDED TO OPEN RING 2 AT OUR SHOWS TO ALL BREEDS. THIS WILL ALLOW THE OTHER STUDENTS OF THE TRAINERS WHO SO LOYALLY ATTEND AN OPPORTUNITY TO COME OUT AND COMPETE, AND RIDERS OF ALL KIND TO SEE WHAT THOROUGHBREDS CAN REALLY DO! RING 1 IS STILL EXCLUSIVELY RESERVED FOR OUR ALL THOROUGHBRED CLASSES, BUT YOU NOW HAVE THE OPPORTUNITY TO HAVE MORE COMPETITION SHOULD YOU CHOOSE!
ALL PROCEEDS FROM THE SHOW WILL STILL GO TO THE RUN FOR THE RIBBONS THOROUGHBRED RETIREMENT FACILITY, WHERE WE PROVIDE A SAFE HOME, REHAB AND RETRAINING FOR THE HORSES IN OUR PROGRAM. WE HOPE THAT THE OPENING OF RING 2 WILL GENERATE MORE INCOME SO WE CAN CONTINUE TO BRING IN MORE OTTB'S THAT NEED OUR HELP!
WE HOPE YOU WILL ENCOURAGE YOUR FRIENDS TO JOIN IN ON THE FUN!
We have classes ranging from Leadline to 3'3″ hunter/jumper classes.
We also have Classics with cash prizes!
Riders & horses can qualify for our yearly Equitation Finals
YEAR END AWARDS FOR EACH DIVISION – EXHIBITOR/HORSE MUST COMPETE IN AT LEAST 3 SHOWS TO BE ELIGIBLE FOR YEAR END AWARDS
Don't miss our upcoming shows:

October 15, 2017 – Halloween Show! Participation in our FREE costume class is encouraged 🙂


December 10, 2017

2018 dates TBA
(224)