GOAL FOR 2018 EXPO – $50,000; Our dreams can come true with just 1 Capital Sponsor!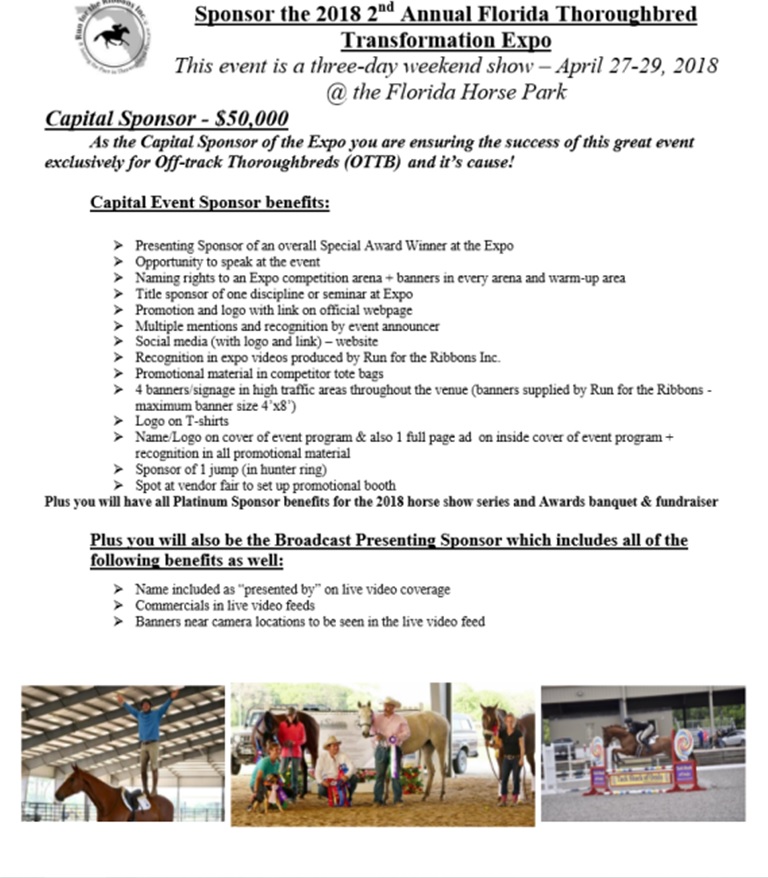 Run for the Ribbons Inc. started as an idea for a Hunter/Jumper horse show series exclusively for Thoroughbreds, being created in order to promote OTTB adoption and retraining, giving them a place they could call their own, the first of its kind in Florida. Now, entering our 4th year we are not only a hunter/jumper horse show series, but also a rehabilitation and rehoming facility for off-track Thoroughbreds and also the host of the Annual Florida Thoroughbred Transformation Expo. We have successfully rehomed and retrained numerous OTTBs and currently have 3 enrolled in the program now, receiving active retraining in order to move on to their second career following racing, whether it is the Hunter/Jumper world, cross country, polo, barrel racing, or just quiet trail riding. The main goal for this program is to provide more and more opportunities to showcase the talents of this fabulous breed and create incentive for horsemen to take up the challenge of giving these athletes a second career after racing.
As Thoroughbred activists, it is truly important for Run for the Ribbons Inc. to work with other local businesses involved in the care of Thoroughbreds, whether it be retirement breeding, racing, sales or otherwise. The goal is first and foremost to work together in order to provide successful careers, aftercare and business surrounding the Thoroughbred breed that is so important to the community of Marion County and also the state of Florida.
The Run for the Ribbons Horse Show is still looking for sponsors for the 2018 Thoroughbred Transformation Expo. We would greatly appreciate any support you may be able to provide and thank you for your consideration. Please do not hesitate to call us if you should have any questions. We are looking forward to a partnership together, and hope to hear from you soon!
With sincere thanks,
Laurine Fuller-Vargas
Run for the Ribbons Inc. founder & President
Forms can be printed, filled out and emailed back to runfortheribbons@gmail.com subject: Sponsorship, or printed, filled out and mailed to:
Attn: Run for the Ribbons Inc.
Cedar Lock Farm
14650 NW Hwy. 464B
Morriston, FL 32668
Thank you for taking your time to consider supporting our charity.
Run for the Ribbons Inc. – 14650 NW Hwy 464B, Morriston, FL 32668
Phone: (774)328-1760
Email: runfortheribbons@gmail.com
We are a 501©3 charitable organization. All contributions are tax-deductible.
CLICK for Capital Sponsor Info

 Click here for all additional sponsorship information & levels
Platinum $6,000
Naming rights to an Expo competition arena
Title sponsor of one discipline or seminar at Expo
Promotion and logo with link on official webpage
Multiple mentions and recognition by event announcer
Social media (with logo and link) – website
Recognition in expo videos produced by Run for the Ribbons Inc.
Promotional material in competitor tote bags
4 banners/signage in high traffic areas throughout the venue (sponsor supplies banners/signs – maximum banner size 4'x8')
Name or Logo on T-shirts
1 full page in event program + recognition in all promotional material
Sponsor of 1 jump (in hunter ring)
Spot at vendor fair to set up promotional booth
Gold $2,000
Promotion and logo with link on official webpage
Multiple mentions and recognition by event announcer
Social media (with logo and link) – website
Recognition in expo videos produced by Run for the Ribbons Inc.
Promotional material in competitor tote bags
3 banners/signage in high traffic areas throughout the venue (sponsor supplies banners/signs – maximum banner size 4'x8')
1/2 page in event program + recognition in all promotional material
Spot at vendor fair to set up promotional booth
Name or Logo on T-shirts
Silver $1,500
Promotion and logo with link on official webpage
Multiple mentions and recognition by event announcers
Social media (with logo and link) – website
Recognition in expo videos produced by Run for the Ribbons Inc.
Promotional material in competitor tote bags
2 banners/signage in high traffic areas throughout the venue (sponsor supplies banners/signs – maximum banner size 4'x8')
1/3rd page in event program
Spot at vendor fair to set up promotional booth
Bronze $1,000
Promotion and logo with link on official webpage
Multiple mentions and recognition by event announcer
Social media (with logo and link) – website
Recognition in expo videos produced by Run for the Ribbons Inc.
Promotional material in competitor tote bags
1 banners/signage in high traffic areas throughout the venue (sponsor supplies banners/signs – maximum banner size 4'x8')
1/4th page in event program + recognition in all promotional material
Broadcast Presenting Sponsor – $5,000
Name included as "presented by" on live video coverage
Commercials in live video feeds
Banners near camera locations to be seen in the live video feed
Plus All Gold Sponsor Items
"Friends of Run for the Ribbons Inc." – Donation less than $1000
Promotion and logo with link on official webpage
Social media (with logo and link) – website
Recognition in official event program